Designation as ASCE Historic Civil Engineering Monument
The formal ceremony adding the Historic Navajo Bridge to ASCE's list of Historic Civil Engineering Monuments was held on Friday, May 15th, 1997 at 1:00 p.m. A plaque commemorating the landmark was placed at the north end of the bridge at the new Interpretive Center.
Arizona's Historic Navajo Bridge spans Marble Canyon in a graceful silvery arch approximately 470 ft. above the Colorado River in Grand Canyon National Park, approximately 125 miles north of Flagstaff, Arizona. The 750 ft. long steel bridge with it's 616 ft. three-hinged spandrel arch main span has been judged to be the most historically significant bridge in Arizona.
The bridge is located in a uniquely beautiful region that is characterized by high plateaus and steep, red-walled canyons. Although the area is remote and sparsely populated, the bridge was a vital transportation link between northern Arizona and Southern Utah, providing access to the North Rim of the Grand Canyon National Park, Kaibab National Forest, Zion National Park, and Bryce National Park. Historic Navajo Bridge replaced Lee's Ferry in 1928 as the only crossing of the Colorado River for a stretch of 600 miles and was still the only crossing between Glen Canyon Dam and Hoover Dam when it was taken out of service in 1995.
The bridge has been designated as only the fourth NATIONAL HISTORIC MONUMENT by the American Society of Civil Engineers (ASCE). Other ASCE landmarks in Arizona include the Theodore Roosevelt Dam and Salt River Project (1971); Hoover Dam (1984); and the Prehistoric Hohokam Canal System (1992).
The bridge was replaced in 1995 to be a new and stronger parallel structure, which was designed by Cannon & Associates and constructed by Edward Kraemer and Sons, Inc.
The nomination for the Bridge was prepared by the staff at Cannon & Associates, whose effort was pivotal in obtaining the award.
Historic Navajo Bridge
Photo Tour
Looking north across the river below. The bridge on the left is the newly constructed bridge.
View from the other side, facing southward.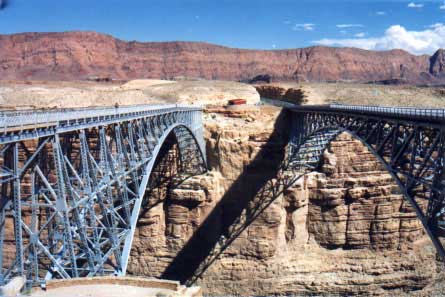 Another view facing south.
Another view of the new bridge.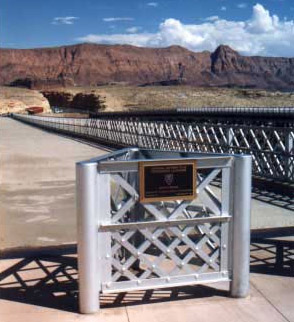 The ASCE National Historical Civil Engineering Landmark.
New bridge extending from the rock canyon walls.
Looking upstream at the Colorado River.
Looking downstream at the new Navajo Bridge.